More submenus
This tutorial is simply here to re-enforce your knowledge about the creation of sub Menus and also purhaps to give an example of the capabilities of T-Menu.
If you think you already know how to make sub Menus sufficiently then skip to lesson 3b.
In the following steps, we will create this: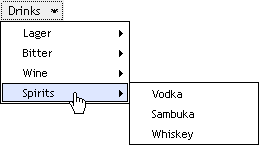 You will see a lot of code, but it's not complicated, it's just that there's lots of data to build.
1. So as normal, include the css first:
<link

href=

"tmenu.css"

type=

"text/css"

rel=

"stylesheet"

>
2. Then include that lovley js package:
<script

type=

"text/javascript"

src=

"tmenu.js"

></script>
3. Build the data for this menu and it's alcaholic content:
<script

type=

"text/javascript"

>




var

myMenuBar

=

new

MenuBar

();


var

drinksMenu

=

new

Menu

(

"Drinks"

);

// just define the Menu, we'll add the sub Menus later.





// build the lager Menu




var

lagerMenu

=

new

Menu

();


var

lager1

=

new

MenuItem

(

"Heineken"

,

"Heineken.html"

);


var

lager2

=

new

MenuItem

(

"Carlsberg"

,

"Carlsberg.html"

);


var

lager3

=

new

MenuItem

(

"Budweiser"

,

"Budweiser.html"

);

lagerMenu.add(lager1);
lagerMenu.add(lager2);
lagerMenu.add(lager3);



// build the bitter Menu




var

bitterMenu

=

new

Menu

();


var

bitter1

=

new

MenuItem

(

"John Smiths"

,

"johnsmiths.html"

);


var

bitter2

=

new

MenuItem

(

"Tetleys"

,

"tetleys.html"

);

bitterMenu.add(bitter1);
bitterMenu.add(bitter2);



// sorry wine lovers for my ignorance




var

wineMenu

=

new

Menu

();


var

wine1

=

new

MenuItem

(

"Red"

,

"red.html"

);


var

wine2

=

new

MenuItem

(

"White"

,

"white.html"

);

wineMenu.add(wine1);
wineMenu.add(wine2);



// Shots




var

spiMenu

=

new

Menu

();


var

spi1

=

new

MenuItem

(

"Vodka"

,

"vodka.html"

);


var

spi2

=

new

MenuItem

(

"Sambuka"

,

"sambuka.html"

);


var

spi3

=

new

MenuItem

(

"Whiskey"

,

"whiskey.html"

);

spiMenu.add(spi1);
spiMenu.add(spi2);
spiMenu.add(spi3);



// Build and Add MenuItems for the main Drinks Menu that POINT TO the Menus we've just defined





var

lagerItem

=

new

MenuItem

(

"Lager"

, lagerMenu);


var

bitterItem

=

new

MenuItem

(

"Bitter"

, bitterMenu);


var

wineItem

=

new

MenuItem

(

"Wine"

, wineMenu);


var

spiItem

=

new

MenuItem

(

"Spirits"

, spiMenu);

drinksMenu.add(lagerItem);
drinksMenu.add(bitterItem);
drinksMenu.add(wineItem);
drinksMenu.add(spiItem);


// --------------------------------------


myMenuBar.add(drinksMenu);

// Add the main Drinks Menu to our MenuBar




document

.write(myMenuBar);

// and of course like always, write the MenuBar




</script>
Next up, Lesson 3b.